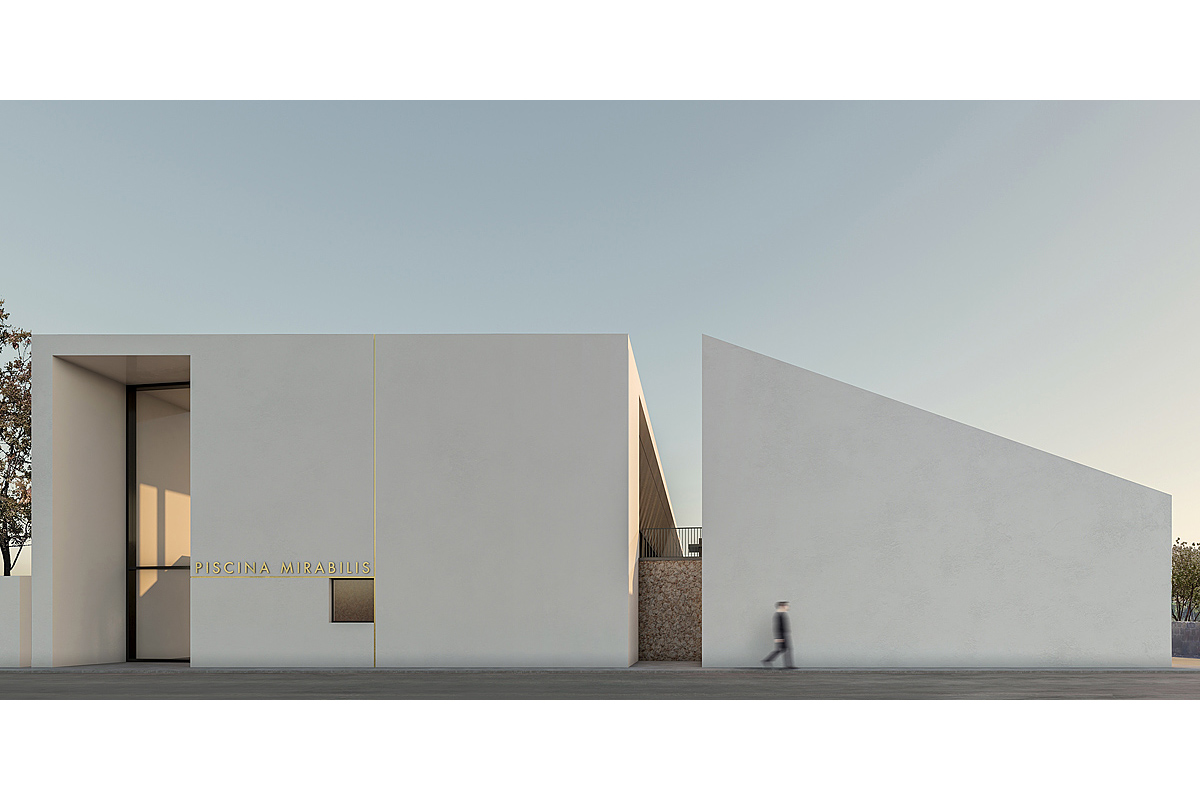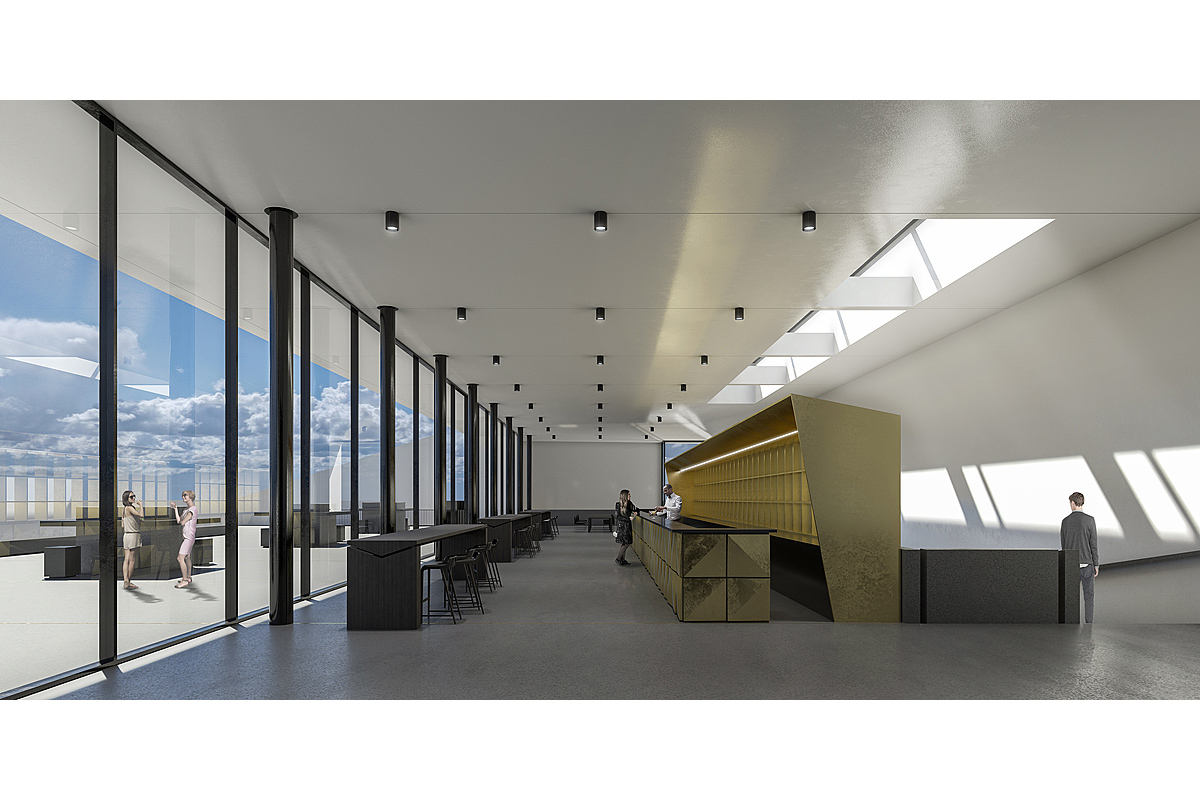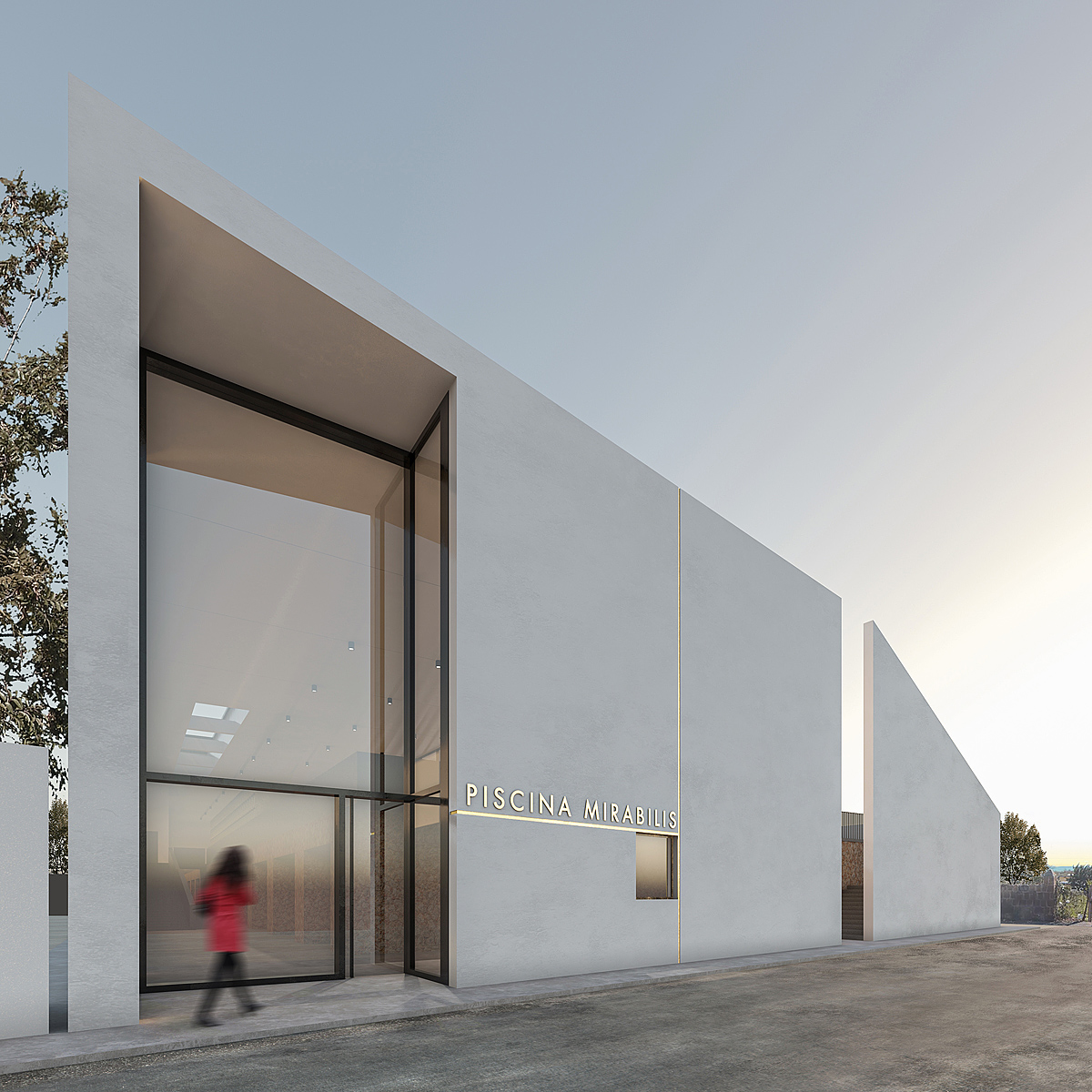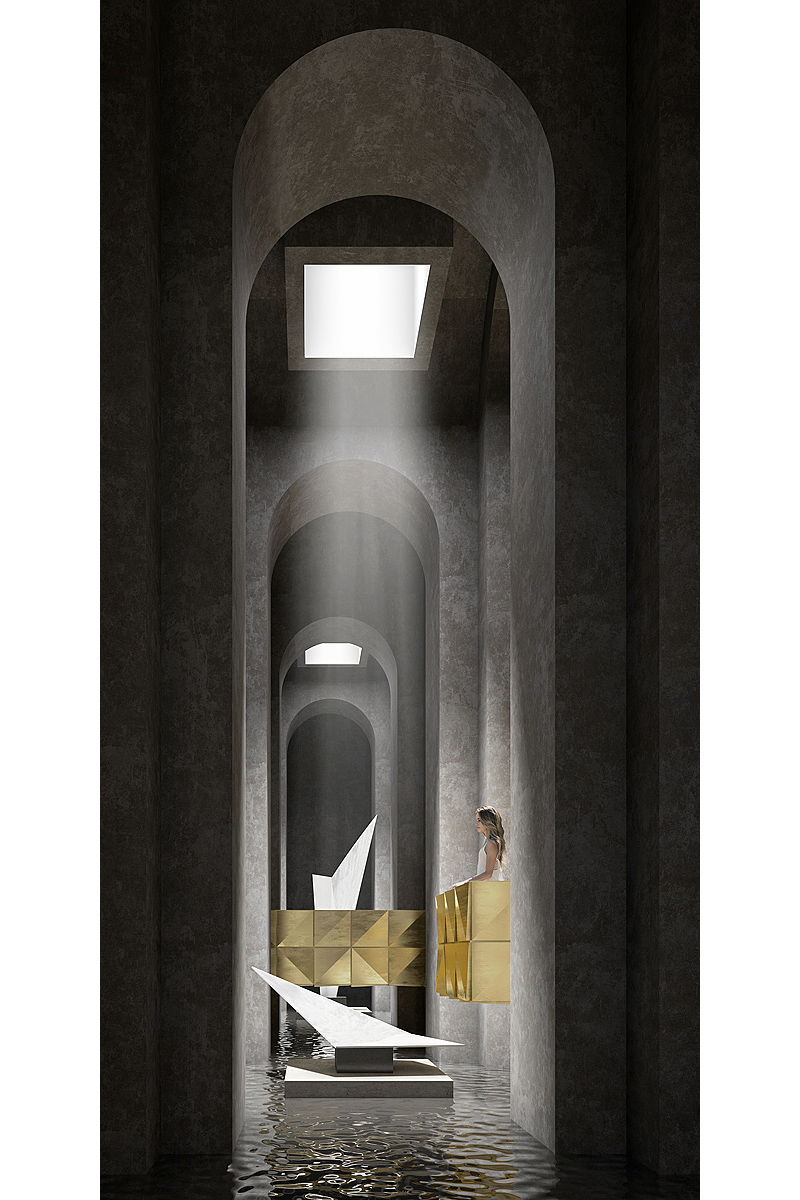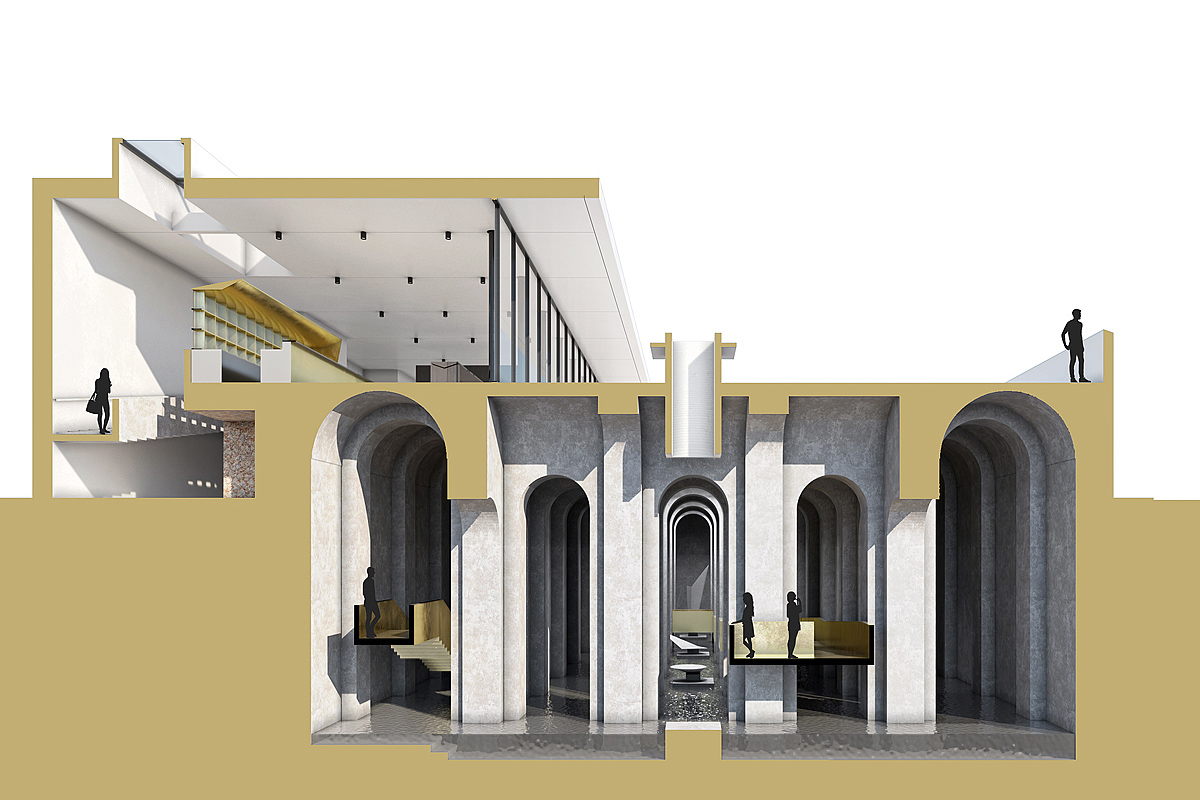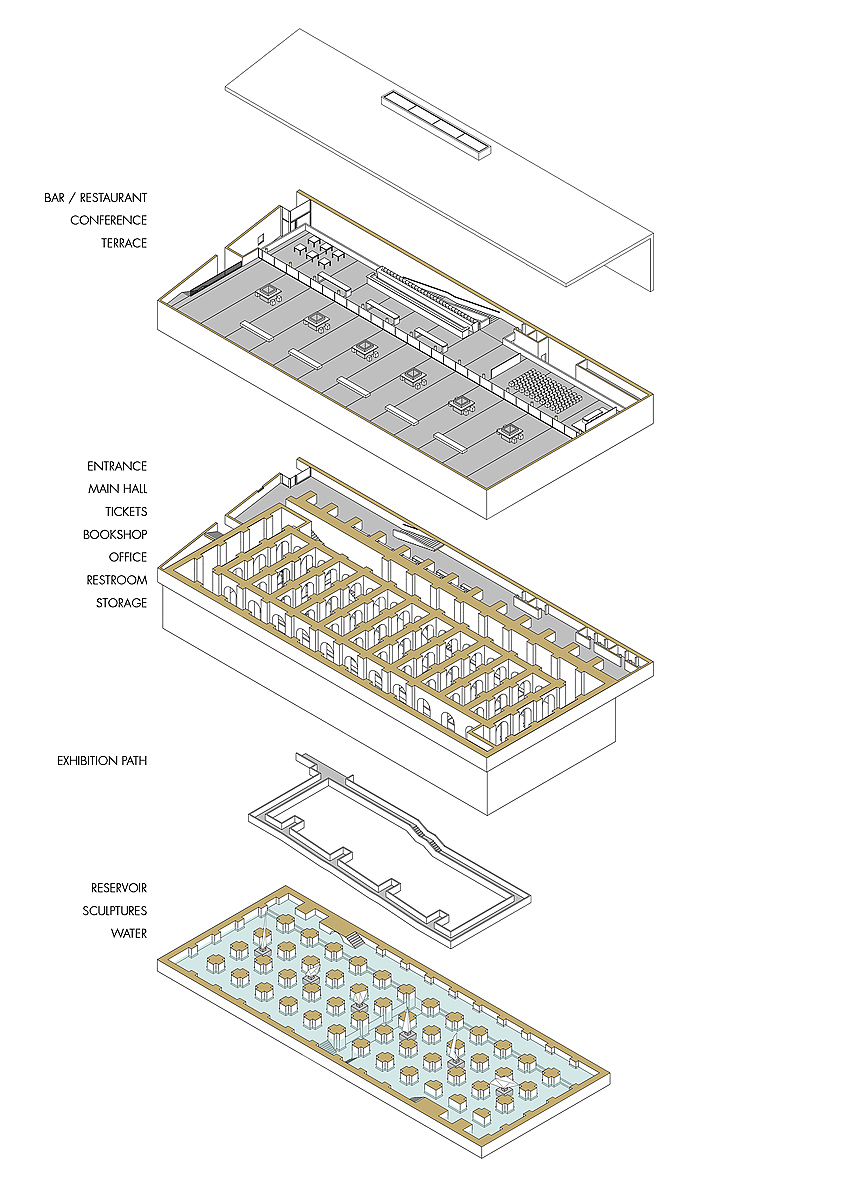 Piscina Mirabilis
Bacoli, 2020
con M. Manicone
WATER
On the bottom of the Piscina Mirabilis there is a layer of water, a reminder of the original function of the reservoir and a device for reflecting the light that comes from the cannons of light placed on top of each of the six sculptures places. A gold-colored walkway illuminates the darkness of the cistern with further reflections and allows it to travel to different altitudes of its large interior. In the museum space, the atmosphere of the ruins and hollows of the soil of the telluric geography north of Naples echoes. Darkness interrupted by powerful and luminous rays that fall from calibrated openings. Sculpture is the artistic form suitable for the place, the one that best gets into relationship with the space and the light, which becomes enjoyable from the different points of view that the walkway offers and which resists better the wear of the atmospheric agents that enter the cistern.
LAND
The ground floor mainly houses the functional parts of the museum: the entrance, the ticket office, the bookshop, the restrooms, the warehouse and the staff offices. The hardware that allows efficient operation of the museum machine. The hall is configured as a double-height space that encloses the ruin. The niches of the Roman structure have been restored to accommodate some of the functions so as to make the relationship between ancient and new stringent.
SKY
The ideal end of the trip inside the museum is the large terrace open on one of the most evocative places in the Mediterranean, the gaze welcomes the mythology of Capo Miseno and the profiles of the islands north of the Gulf of Naples. Looking south-west, the terrace is illuminated by the sun for most of the day, light on light that mixes with the reflections of the sea. The terrace is a place of the spirit opposed to the darkness of the vaulted interior of the Piscina Mirabilis. In addition to being an extension of the space dedicated to the bar and the conference room inside, it is a place to deeply connect the museum experience to the surrounding place.